Tuesday, November 29, 2011
Baby~~~ <3

- Moka. ;)
Posted by

Quintessentials9091
at 2:06 PM
0 comments

Monday, August 15, 2011
Welcome to Quintessentials! Not to overwhelm the whole welcoming thing, this blog is dedicated to all those people out there who are about to start their journey with anything fashion and beauty related. While we believe there are plenty of super cool blogs out there for that matter, we still would like to give it a shot and present to you readers our
quintessential
fashion and makeup tips, suggestions and ideas. Have a good day and hope to see you again! <3
Show us some support by following and/or commenting! We'd love to read your comments as long as it's not spam, weird ads and R-rated stuffs ;)
What to Wear With a Pearl Necklace
Wearing a necklace is always a great way to finish a look in any type of outfit. Today, we will feature the pearl necklace, one of the items we considered as a "classic", since it basically never goes out of style. You can go for real pearls of course, if you have the money, but 'fake' pearls (what we used :P ) work just as well and you can find them at a cheap price and looking decently good!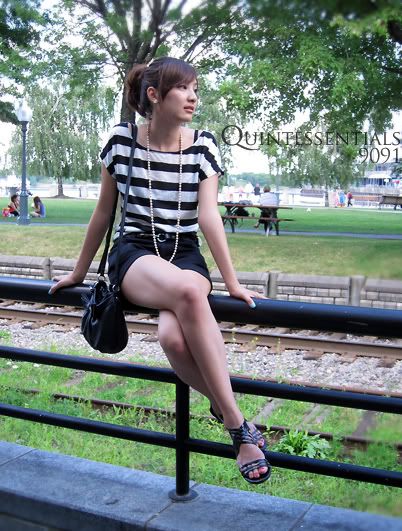 The casual.
Our friend Moka here is being pretty simple with black shorts and a stripes top. To finish the look, since the neck line is relatively wide and gives room for some decoratives, the pearl necklace is a great way to "fill in the blank". A shorter necklace would have probably been better, but with this long necklace, you have the possibility to make a pretty knot like so: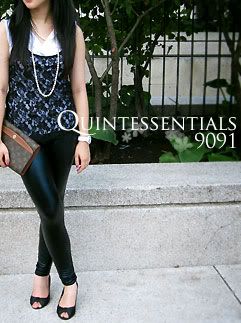 The classy.
In this case, Mary went slightly more chic with a black lace tank top over a white sleeveless top. Laces and pearls always go well together since they give such a feminine touch to the one wearing them. For a bolder look, faux-leather legging works great to enhance people's focus on you. For those less comfortable with leggings, black skinny pants work just as well! Here's a closer look:
The advantage with long necklace is that you can always make a double loop and wear it. Even though we have only presented to you guys three ways of wearing your long pearl necklace, you probably know the possibilities are endless. You can always make a double knot if you think the necklace is still too long or ditch the idea of wearing it as a necklace! Make multiple loops and wear it as a bracelet is totally fine too.
So this bring us to the end of our very first official post. We hope you found this useful and would love to hear how you would wear the pearl necklace instead!
P.s.: That day, Soiia (the last member of this trio) didn't wear her pearl necklace, because well, the schedule kinda got messed up at a certain point x) Hopefully no one is disappointed to not see three whole different looks. Instead, you can always imagine her wearing the pearl necklace instead of whatever necklace she wore that day...
(Sorry!)
Moka: The black pair of shorts was bought at Forever21 and the stripes top at Dynamite. Shoes are from Payless Shoes and the cross-body bag from Spring Shoes.

Mary: The black lace top was bought at Dynamite, while the white tank top was self made :). The faux-leather legging came from Simons (La maison Simons). Shoes are from Le Château, the purse from Locale Shoes and the clutch from Louis Vuitton.

Soiia: Both the black pencil skirt and plain white t-shirt were bought from Dynamite, while the flat shoes came from Little Burgundy. Purse from Locale shoes.
And no, we are of course not sponsered by Dynamite. They happened to have big sales... and we were "by chance" in the corner.
We took more pictures, of course. Camwhoring is a sickness.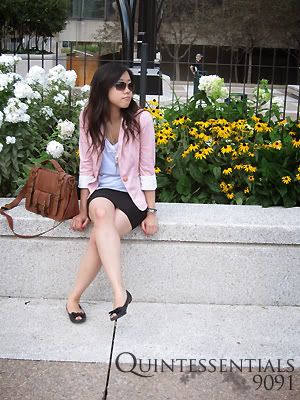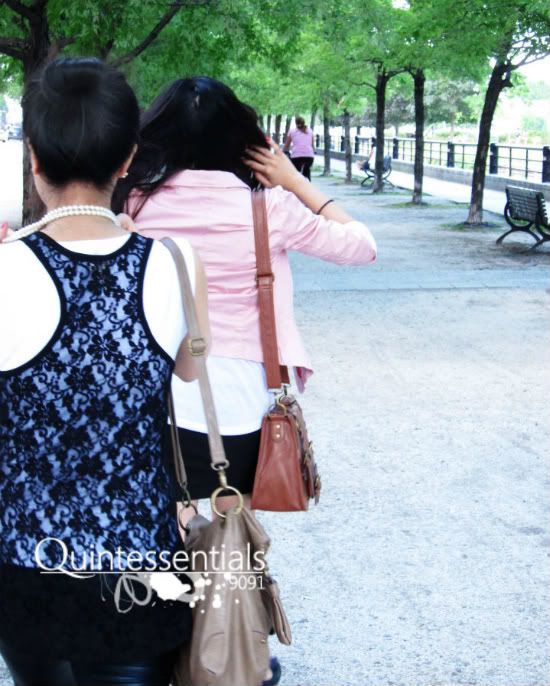 It's so hard to just take a good pictures of people's behind LOL
Posted by

Quintessentials9091
at 7:44 PM
0 comments